Welcome to our web site!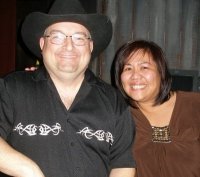 Hello! We are Moe & Melissa and we are the owners & operators of M & M Music. Hope you enjoy our site and hope to hear from you!
In this site we share our background, pictures and links.
We hope to answer any questions you may have about karaoke and where to sing.
If there are any shows not listed please let us know so we may post them.
If you wish to have a link on our page send us an email.
Click here to hear our friends
See our Song Selection Here

Karaoke Fun For Everyone!
For bookings call
204 295-2817